Our favourite bar in East London has let us in on the recipe for its punchy chilli and ginger Margarita. Deano Moncrieffe and Emma Murphy opened Hacha in 2019 in the hope of making agave spirits more accessible, with an ever-changing list of 25 bottles on the menu alongside its award-winning Mirror Margarita. But this recipe is a lip-puckering blend of zingy ginger and lemon, plus a good old spice kick from both Scotch bonnet and jalapeño chillies.
'The last time I was in Mexico 14 months ago, I had the best chilli-mezcal Margarita and this is my version of that cocktail. Two types of chilli with different characteristics went into it and that inspired me to give this one a try. I think it's fascinating that chillies are much more than just hot and spicy; there is another layer of flavour you get once you start spending a little bit of time researching and exploring the differences.'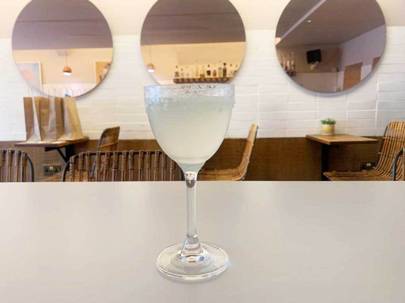 Whenever I go to Oaxaca I know I am in for a treat as I can sample mezcals and agave spirits that you can't find anywhere else in the world – that also results in being able to experience the most unique Margaritas. Mexico is such a great place with such different food and drink in each region, and the same goes for mezcal and tequila.'
Ingredients
50ml mezcal (infused with chilli for 5-10 minutes)
25ml freshly squeezed lemon juice
20ml sugar syrup (infused with ginger)
1/4 lemon drop chilli
1/4 Scotch bonnet chilli
1/4 jalapeño chilli
Inch of ginger
Method
Add all the ingredients in the order above to a cocktail shaker filled with cubed ice.
Shake hard until the shaker is very cold.
Double strain into a chilled glass rimmed with salt flakes.
Like this? Now read:
The best cocktail delivery services in London