How did you end up quarantining in a hotel in Mauritius?
'I went to Mauritius in November 2020 for a month to work with the tourism board, advising them on media strategy and training and so on. A year's writing contract had just ended, so I felt confident that my travel was therefore essential for work. I was obviously still a little apprehensive, as I had no idea what the hotel room or food would be like. It was a bit of a leap of faith, especially flying with a mask on too. I stayed in the Trou aux Biches Beachcomber hotel in the north-west of the island for 14 days. All incoming arrivals to Mauritius have to quarantine, whether foreign or Mauritian nationals or residents. I flew into Dubai from Heathrow, and then on to Mauritius.'
How much does it cost to quarantine in a hotel in Mauritius?
'It varies between £1,000 and £5,000 depending on the type of hotel you book (three-, four- or five-star) and the type of room (standard doubles, private villas, family rooms and so on). You have to go to booking.mymauritius and select what flight you're coming in on, so you can see which hotels are still available and how much they cost. The price includes transfers and all food, and non-Mauritians pay an extra fee of around £247 to cover any medical costs, including three Covid tests. The good thing about the system in Mauritius is that staff are on a work rota bubble with the guests, so they start a 14-day shift and only deal with the arrivals from that day. They work and sleep at the hotel and interact only with others on that shift. That way there's no cross-contamination in the hotels between arrivals from different countries and no chance of transferring it to the community (as sadly seen in Australia). Finally, Mauritius has just announced that from Monday 1 March 2021 it is accepting arrivals from the UK again (there was a pause at the start of 2021 due to the Kent variant when people had to show they'd spent 15 days outside the UK before being admitted to quarantine).'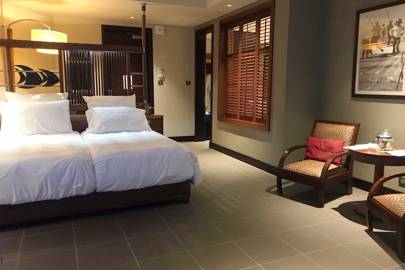 How had the hotel accommodated guests quarantining?
'The entire hotel was designated as a quarantine hotel. When the plane landed in Mauritius everyone had to have a Covid test at the airport. All passengers were then put into minibuses and transported across the island to the hotel – I waited for about two and a half hours on the bus while everyone was processed at the airport. There were three minibuses in my convoy to the Trou aux Biches; we even had a police escort and were going through red lights. The journey took around an hour. During my stay, all meals were brought to my door and left on a stand outside – staff would knock and then head away. My door opened onto stone steps and there was a balcony on the other side, so it was handy having a through-breeze in my room. As the balcony was almost entirely shaded, it was nice to sit on my front door step to catch the sun at midday in the fresh air.'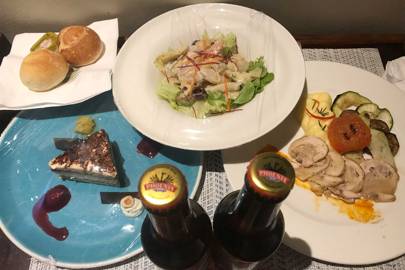 'The meals included in the hotel quarantine fee were breakfast, lunch, dinner and afternoon tea, although I had to ask them not to bring afternoon tea as I was eating so much food! There was a weekly menu to choose from, and every day the hotel staff would phone up and get your selection for the next day. The food was excellent: very tasty, hot, lots of it and it ranged from fish and rice to beef stew, seafood salads and various puddings. Each meal arrived with a litre bottle of still water and you could order beer, wine and so on, and pay for any alcohol at the end of your stay. There were soft drinks and cartons of UHT milk in the mini bar and a kettle for coffee and tea.'
'I couldn't leave my room – although I used the start of the steps down to the main pathway to do step aerobics. This was only possible because my door wasn't near anyone else's. I had a balcony, but people on the ground floor had space marked off with police tape to use for fresh air and sunbathing. I was very envious of them being able to lie out on the grass. There were no communal areas in the hotel.'
'I had my temperature taken every day: a guy would appear with a temperature gun. After a while it was so routine he could zap me while I was working at my desk or on a Zoom call (if I'd left my door open for fresh air). Unlike the staff with masks, he was in full PPE. On days seven and 14 I was tested for Covid (at 6.30am – ouch). I was finally released at 5pm on the final day.'
Was everyone in the hotel quarantining?
'Yes. The whole hotel was for quarantining guests only and the restaurant, gym and pools were all closed and off-limits.'
Were there areas where you thought the virus could still spread?
'No. Check-in was done outside and our room keys were laid out ready on tables. Staff all wore masks and the luggage was sanitised. Everyone was then quickly and individually whisked away on golf buggies to their rooms.'
What precautions were the staff taking to avoid catching the virus?
'They all wore masks and I assume they sanitised their hands constantly. No one entered my room for the entire stay. I was given a mop, bucket and cleaning products, and multiple bathroom products and loo rolls, plus extra sheets. You could ask for more if needed. You then left rubbish and used sheets outside your room.'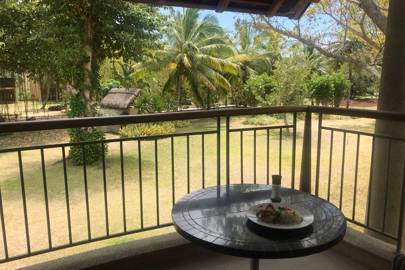 How was your mental health during quarantine?
'It was fine as I knew I was very lucky to be able to travel to Mauritius, and very lucky to have a large hotel room with outside space. Friends who have gone through quarantine in Australia and Montenegro did not have that. I had a separate space between my bed and the door with a desk so I could "commute" there in the morning and then shut down and "leave work" in the afternoon, which was a good psychological separation – I wasn't sleeping, eating and working from bed, for example.'
'The only day I felt really twitchy and desperate to get out was the final one – I had been woken at 6.30am for my final Covid test and then waited around until 5pm before getting the all-clear. I was all packed up and felt I couldn't really settle to anything. I was a bit worried about being out in the big world again after such a long time inside! When I was given the news, I was picked up within five minutes, taken to the reception for my certificate and offered a welcome drink, but I couldn't wait to get to my new hotel and go for a swim and a walk – bliss. The next day I hired a bike to explore the north of the island and really relished my freedom. I also made sure I exercised as much as possible in quarantine. I did yoga on my balcony every morning before breakfast (with a free yoga app on my phone) and at lunchtime and after work I'd do a walking circuit of the room (listening to a podcast) or kickboxing or circuits.
Would you quarantine again?
'I would definitely quarantine again if it was essential (and in Mauritius for sure) as I knew that after two weeks I'd be able to travel around the island freely and enjoy some wonderful hotels and sunshine. I also found it quite liberating: I knew there was nothing I could do about my situation and nowhere I could go, so that meant I could do lots of admin tasks I'd been putting off such as organising photos on my laptop and updating my blog posts (at aladyofleisure.com). I also caught up on films I'd been meaning to watch for ages. In future I'd ask for a room with a sea view if possible, which would have been nice. My balcony looked out onto a lawn, which was fine. I only realised afterwards I was about 20 metres from the Indian Ocean – but couldn't see it.'
What advice would you give to anyone who is about to go through hotel quarantine?
'Definitely take a coffee press or cafetiere if you're into proper coffee – I had a plastic cafetiere which was a daily treat. I would also suggest taking an HDMI cable so you can watch films from your laptop through the hotel TV – I spent too much time looking at my laptop as it was. I would also ask (if you're in a higher-end hotel) for an exercise machine from the gym to be put in your room, which I've heard people do – it would have been great to have a treadmill, bike or rowing machine. Definitely get an exercise regime going, for your mental health and to break up the day, as well as to counteract the vast amounts of food. If you can work then great but if not a project or task is vital, such as language lessons, creative writing, watching all of Hitchcock's films – just something to give you purpose. Get up at the same time each day, wash, dress, move about – don't lie in bed as you'll get incredibly bored very quickly and probably find the whole experience more difficult overall.'
Like this? Now read:
Quarantine hotels in the UK: everything you need to know
Vaccine passports for travel: everything you need to know